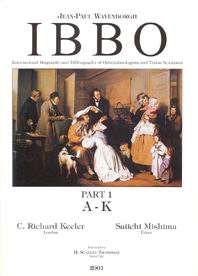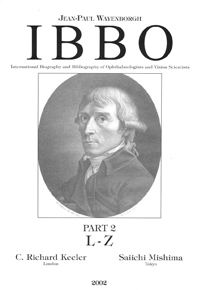 IBBO
International Biography and Bibliography of Ophthalmologists and Vision Scientists
by
Jean-Paul Wayenborgh
IBBO ist the largest bio-bibliography on ophthalmology to-day available.
Written by Jean-Paul Wayenborgh with the collaboration of the late Professor Saiichi Mishima (Tokyo) and Richard C. Keeler (London) this two-volumes-set contains the biographies of more than 3000 ophthalmologists and of people with relations to vision. Each entry traces a short biography and more importantly a list of published books and a selection of published papers. Where it was possible portraits are presented together with the entry.
IBBO has been printed in two volumes on art paper. Format in-4to and containing 480 + 490 pages.
Return to Book List