Corneal Transplantation: A History in Profiles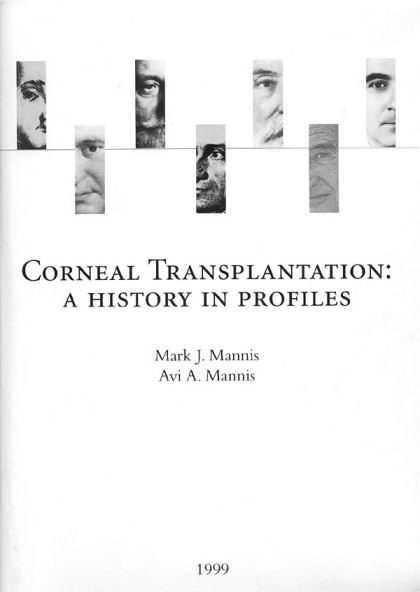 by
Mark J. Mannis and Avi A. Mannis
Mark J. Mannis, together with his son Avi, presented in 1999 the first extensive History of Corneal Transplantion from the first ill fated ideas of the late 18th century to the present time. This voluminous
work ends with a show of antique instruments from different sources illustrating the development of the surgical technique of corneal transplantation.
Like the other volumes of this series, Corneal Transplantation, has been printed on a glossy high quality art paper in 4to format. Profusely illustrated it contains ix, 376 pages.
The Archives of Ophthalmology wrote about it: This outstanding volume traces the development of corneal transplantation from the 18th century to the mid 20th century, with detailed chapters on 18 pivotal pioneers in the field....The volume is beautifully written and produced....It will take its place in the libraries of historians of medicine, cornea specialists and other ophthalmologists interested in the origins of their craft.
Archives of Ophthalmology, vol.118, nr.12, December 2000
Similarly in Insight, Vol.XI, Number 1 , p.3